Our Business
Survey Research on Parks and Recreation
Research of Understanding Current Conditions and Present Issues on Urban Parks
Survey of flora and fauna on urban parks
Visitor satisfaction survey on urban parks
Prediction of visitor numbers in urban parks based on visitor count surveys
Monitoring and evaluation of park management
Development of Park Management Plan
We develop management plan and suggestion considering information as follows.
Community involvement
Programming for environmental, cultural and historical education
Surrounding areas management focus on urban parks     etc…
Development of Techniques of Park Management
We develop techniques as follows,
Design method of forest floor and edge
Design method of flower garden and flower bed
Renewal management method of trees
Preservation management system of forest area
Setting appropriate level on lawn management
Park navigation system of mobile application
Grants-in-Aid for Scientific Research
We have been awarded grants by a governmental organization since 2008.
These grants are awarded to scientific research elected as creative and pioneering research.
2008-2011 Development of Museum-like Facilities in Parks by Introducing Museology
2012-2013 A Study on Development of Optimizing Model for Conservation and
      Utilization of Tourism Resources in Historical Parks
Surveys Commissioned by National or Local Governments
We have conducted over 500 government-commissioned surveys over 30 years.
Information Collection and Provision of International Good Practices
Publish our Researchers' Papers in Scholarly Journals
Researchers actively present their research results at Japanese Institute of Landscape Architecture, the Museological Society of Japan and World Urban Parks Congress, and publish in academic journals.
Publication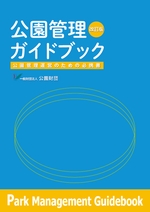 Guidebook of Park management

First Edition in 1985
Second Edition in 2005
350p


Contents
Purpose of Park Management
Maintenance
Operational Management
Compliance
Safety and Risk management
Community Involvement
Management System and Finance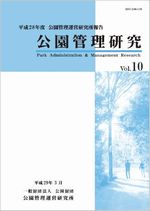 Park Administration and Management Research
This journal includes research results and survey reports of our researchers, papers in PRF staff presentation for research and technological development, IPAM funded research reports.